Toilet Cleaner Ban S-2433
Work clothes detergent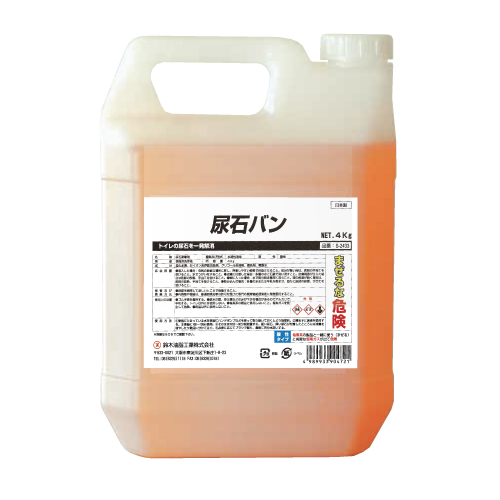 Eliminate urine stones in the toilet
Model number:S-2433
Contents:4kg
Categories
Work clothes detergent
Use
Commercial detergent
Cleaning agent

Cleaning agent type: Aqueous

Dirt type: Animal and vegetable oils and fats ,Mild mineral ,Heavy mineral
Characteristic
It penetrates quickly by the action of special activator.
It has an appropriate viscosity to adhere to the surface of urolith for a long time and has excellent durability.
Dissolves calcium salts in urine stones and easily exfoliates urine stones.
Also removes red stains such as iron rust.
It has low toxicity (normal) and can be used safely without hurting the throat during work.

how to use
It is more effective to use a hand pump to remove the water accumulated in the toilet in advance.
Use undiluted solution.
Use 100-150ml for toilet.
Leave for 30 to 60 minutes. Increase the amount of liquid or pour several times into places where hard or thick uroliths adhere.
Rub with a brush if necessary and wash thoroughly with water at the end.
Standard
| model number | contents | suggested retail price |
| --- | --- | --- |
| S-2433 | 4kg | ¥10,000 |