Guts Ace S-2022
Work clothes detergent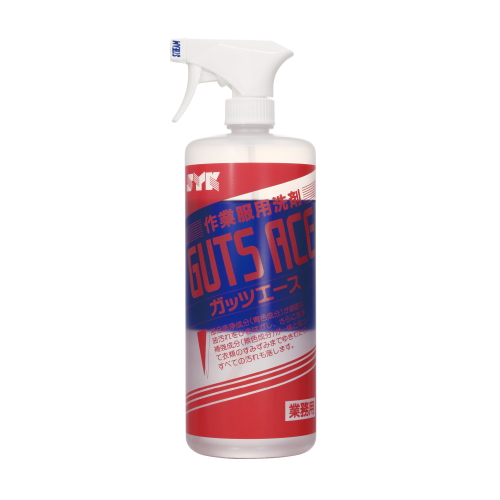 Commercial washing and cleaning with a disinfecting effect
Model number:S-2203
Contents:1.2L
Categories
Work clothes detergent
Use
Commercial detergent
Cleaning agent

Cleaning agent type: Aqueous

Dirt type: Animal and vegetable oils and fats ,Mild mineral ,Heavy mineral
Characteristic
Powerful cleaning of stubborn oil stains on work clothes.
It removes oil stains soaked in by cleaning ingredients, and furthermore, cleaning reinforcement ingredients come together to spread all over the clothes and remove any dirt.
As it is hand spray type, it can be used easily.
how to use
Shake the container well before use, spray it on the heavily soiled area, leave it for a while and wash it normally.
Standard
| model number | contents | suggested retail price |
| --- | --- | --- |
| S-2022 | 1kg | ¥5,800 |
| S-2202 | 1kg | ¥5,200 |