WCR-10 S-2904
Rust remover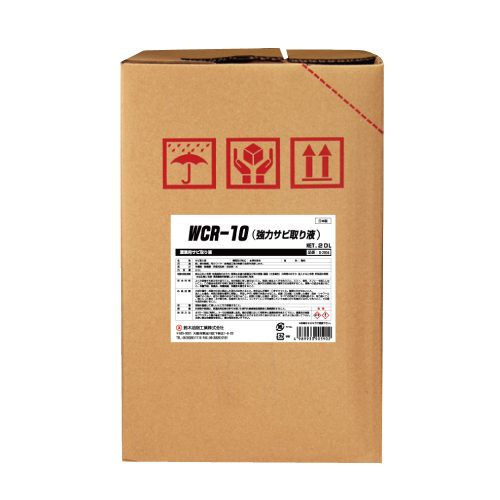 For processing after wire cutting. For rust removal of steel, cast iron, copper, etc..
Model number:S-2904
Contents:20L
Categories
Rust remover
Use
Rust remover
Cleaning agent

Cleaning agent type: Aqueous

Dirt type: Other

PH: Neutral
Characteristic
Since it does not cause peroxidation or hydrogen embrittlement, it has extremely low corrosiveness to metals.
Not flammable or explosive.
Can be used repeatedly.
Maintaining the luster of the metal surface.
Rust can be removed in a short time (1 to 10 minutes).
Economical because it is diluted with water.
how to use
Dilute 2 to 10 times with water and immerse for 5 to 10 minutes before use. Please change the dilution ratio and immersion time according to the state of rust. For immersion
Please use a plastic container.
When the rust falls, remove it from the liquid as soon as possible and wash it well with water.
Please wash away. After rinsing, use a rust inhibitor to prevent rust from recurring.

Standard
| model number | contents | suggested retail price |
| --- | --- | --- |
| S-2903 | 4L | ¥6,000 |
| S-2904 | 20L | ¥25,000 |