Anti-rust2 S-2778
Rust remover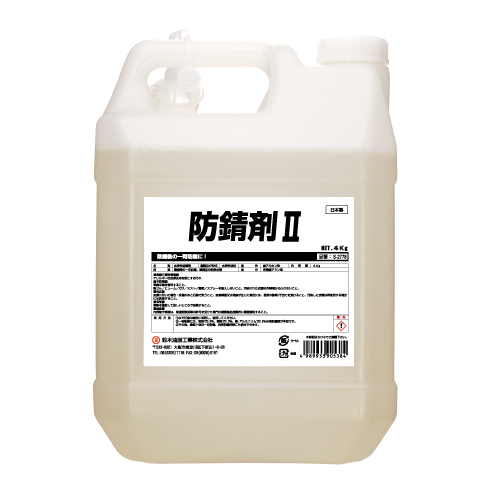 No need for troublesome rust preventive agent removal work before entering the secondary processing from the primary processing of metal processing!
Model number:S-2778
Contents:4kg
Categories
Rust remover
Use
Rust remover
Cleaning agent

Cleaning agent type: Aqueous

Dirt type: Other
Characteristic
It is a non-nitrite water-soluble rust inhibitor effective for steel, cast iron, copper, aluminum and their alloys, and has no ammonia odor (irritating odor). Ideal for temporary rust prevention of machinery, automobiles and electrical components. Unlike conventional oil-based rust preventives, varnish-type rust preventives, and quick-drying rust preventives, there is no need to remove the rust preventive before entering the secondary processing (painting). Can be processed.
In addition, it is suitable for cleaning rust preventives and temporary rust prevention for paint bases. Use of water-soluble abrasives and cutting agents can enhance rust prevention. As it is mainly composed of organic inhibitors, it has low nitrogen, low COD, low toxicity and no inorganic inhibitors.
how to use
① Dilute to any ratio with water and use.
② For temporary rust prevention, a dilution concentration of 0.3% for soft iron, 2.0% for cast iron, and 0.5% for copper and aluminum is effective.
③ In addition, it can also be used as a temporary rust preventive for cleaning of paint bases and a cleaning rust preventive.
Standard
| model number | contents | suggested retail price |
| --- | --- | --- |
| S-2778 | 4kg | ¥15,000 |
| S-2779 | 18kg | ¥65,000 |