Strong Power Clean Eco S-2620
Commercial detergent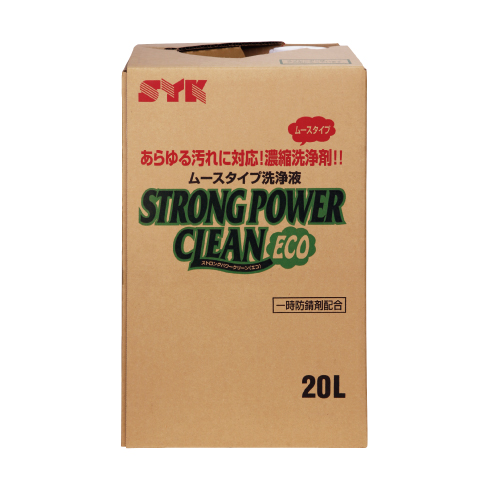 Environmentally friendly all-purpose cleaner
Model number:S-2620
Contents:20L
Categories
Commercial detergent
Use
Commercial detergent
Cleaning agent

Cleaning agent type: Aqueous

Dirt type: Animal and vegetable oils and fats ,Mild mineral ,Heavy mineral

PH: alkalinity
Characteristic
Phosphorus-free and not subject to the PRTR Law.
An environmentally friendly detergent that does not contain environmental hormones, prevents river pollution and contributes to environmental conservation.
For removing burnt oil stains that were difficult with conventional alkaline cleaners.
Can be diluted according to dirt from stock solution to about 100 times.
It can be used from stubborn oil stains on various machine tools, ships, vehicles, etc. to light stains such as hand grit, cigarette tar and tar stains on office desks, shelves, chairs and cabinets.
how to use
Undiluted solution to 5-fold diluted solution: various machine tools, tools, engines
3 to 10 times diluent: Office equipment, kitchen, ventilation fan
20- to 100-fold diluent: floor, factory interior and exterior walls, electrical products
Standard
| model number | contents | suggested retail price |
| --- | --- | --- |
| S-2620 | 20L | ¥28,000 |