Strong Power Clean S-2208
Commercial detergent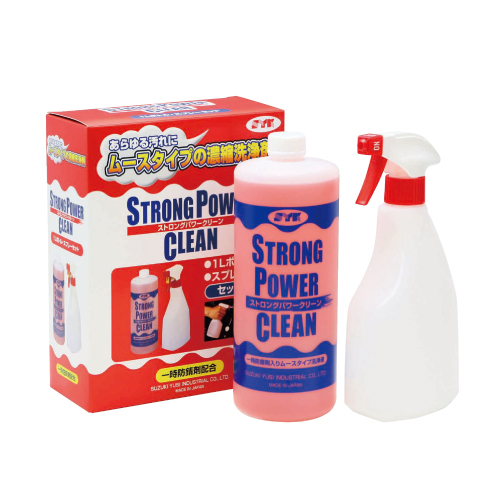 Moose-like universal cleaning agent
Model number:S-2208
Contents:1L
Categories
Commercial detergent
Use
Commercial detergent
Cleaning agent

Cleaning agent type: Aqueous

Dirt type: Animal and vegetable oils and fats ,Mild mineral ,Heavy mineral

PH: alkalinity
Characteristic
As it is a mousse type, it adheres to dirty parts for a long time, further enhancing the cleaning power.
Does not diffuse into the air, so does not irritate eyes or throat.
It can be used according to the purpose and is very advantageous.
how to use
2 to 3 times diluent: various machine tools and engines
10-fold diluent: office equipment, kitchen, ventilation fan
100-fold diluent: Electric products
Spray with a diluent according to the degree of dirt, and wash or wipe with water after washing.
Standard
| model number | contents | suggested retail price |
| --- | --- | --- |
| S-2208 | 1L | ¥3,700 |
| S-2021-4 | 4L | ¥8,000 |
| S-2021 | 20L | ¥28,000 |