Stop The SABI2 S-2781
Rust remover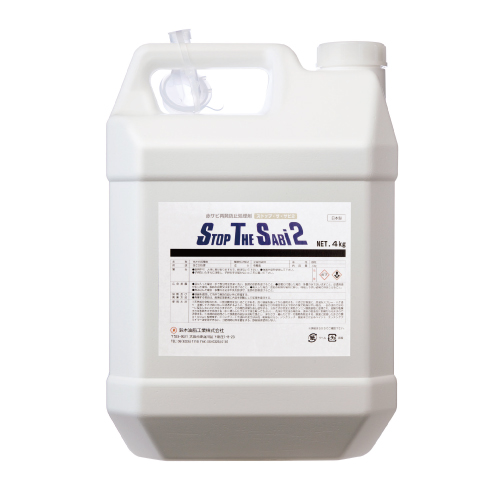 red rust prevention primer
Model number:S-2781
Contents:4kg
| | |
| --- | --- |
| Categories | Rust remover |
| Use | Rust remover |
| Cleaning agent | Cleaning agent type: Aqueous |
Characteristic
Stop the rust 2 reacts with red rust to form a black film (iron tannate) and adheres to the metal surface to prevent rust progress. The coating is epoxy resin and has excellent water resistance, chemical resistance and corrosion resistance. Simply applying directly to the rust surface requires little complicated pretreatment and shortens the work process.
how to use
① Because it contains natural ingredients and may cause some precipitation, shake the container well before use.
② As a pretreatment for this product, remove oil on the iron surface with a solvent to remove floating rust, loose rust, and deposits. Leave the red rust layer adhered to the iron surface about 100μm.
③ Spray, brush and immerse the undiluted solution on the red rust surface to make it penetrate the rust evenly. In the case of dense rust or fast drying under the scorching sun, etc., it may not be possible to apply evenly with a single application, so please apply repeatedly.
④ Dry until red rust is completely converted to black iron tannate complex and a film is formed.
⑤ Apply concrete or paint after drying, and do not use zinc rich, zinc dust rust preventive paint or etching primer.
⑥ Please cover when not in use. Also, do not use iron containers.
Standard
| model number | contents | suggested retail price |
| --- | --- | --- |
| S-2901 | 1kg | ¥9,000 |
| S-2781 | 4kg | ¥31,250 |
| S-2782 | 18kg | ¥137,500 |