Rust Remover For Fuel Tank S-2666
Rust remover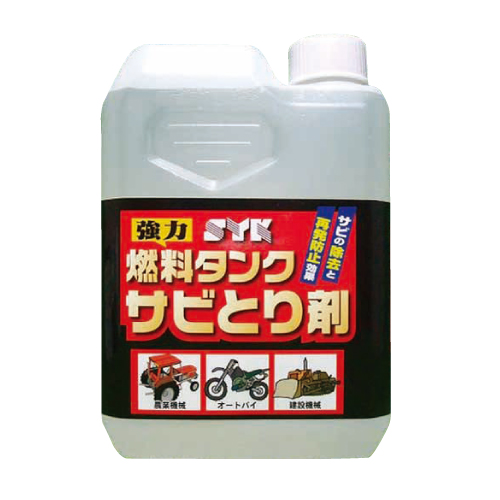 Rust removal and recurrence prevention effects
Model number:S-2666
Contents:1L
| | |
| --- | --- |
| Categories | Rust remover |
| Use | Rust remover |
| Cleaning agent | Cleaning agent type: Aqueous |
Characteristic
Effective for removing rust and preventing rust recurrence.
When the tank capacity is 10L, 1L of this solution is a guide.
Compared to ordinary rust removers, it is hard to blacken and has a high gloss finish. (Depending on the degree of material deterioration)
how to use
If gasoline remains in the tank, remove it.
After removing the tank from the body, remove the attached parts (fuel cock, cap, fuel cage, etc.).
Plug tightly to prevent leakage. (Use rubber stopper plastic)
Wash and wash the oil in the tank.
Know the capacity of the fuel tank and the required amount of stock solution in advance.
Fill the tank with the amount of undiluted solution given by the formula, fill it with water immediately, and fill it without gaps. * It is effective to use hot water (about 40 ° C to 60 ° C) instead of water. * If the amount of liquid decreases during washing, always keep it full with additional water.
After leaving for 5 to 6 hours, remove the liquid after confirming rust removal. * If possible, drain the liquid within 24 hours.
Wash the inside of the tank with a hose.
After the 20-fold diluted solution is completely filled, remove the rinse solution lightly. (Reduces rust)
Let it dry. (Do not wash)
When completely dry, watch out for fire, pour a small amount of gasoline and rinse off gasoline.
After checking safety (for example, if there is a hole), attach it to the vehicle body. ○ If the rust removal is insufficient, return the liquid again and process. ○ If the tank for the rust remover is not used immediately, apply a rust inhibitor to prevent rust.

Standard
| model number | contents | suggested retail price |
| --- | --- | --- |
| S-2666 | 1L | ¥5,000 |
| S-2667 | 4L | ¥19,000 |
| S-2668 | 18L | ¥72,000 |