Neutral Rust Remover S-9815
Rust remover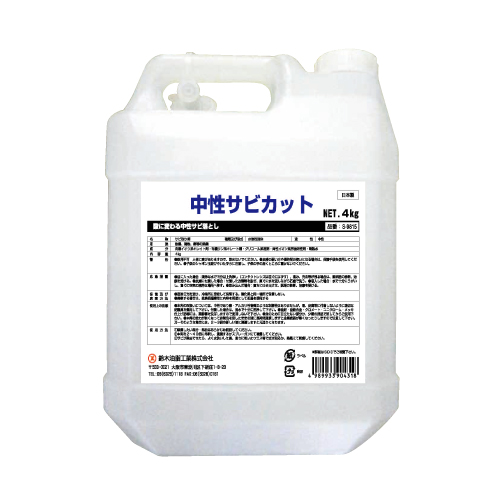 Neutral rust remover replaced with acid
Model number:S-9815
Contents:4kg
Categories
Rust remover
Use
Rust remover
Cleaning agent

Cleaning agent type: Aqueous

Dirt type: Other

PH: Neutral
Characteristic
Removes strong rust of steel, cast iron, copper and copper alloy in a short time. It is effective to heat to about 50 ° C.
Since it is neutral, it is highly safe and easy to handle.
Extremely low corrosiveness to metals and does not cause peracid washing or hydrogen embrittlement.
It can be used safely even in parts mixed with resin and rubber.
Even if it is immersed for a long time, it does not become black, and it is not necessary to pay attention to the immersion time.
Since it is a transparent liquid, the effect of rust removal can be confirmed and it is economical.
how to use
Dilute with water 2 to 40 times at room temperature for use
Standard
| model number | contents | suggested retail price |
| --- | --- | --- |
| S-9815 | 4kg | ¥12,500 |
| S-9816 | 18kg | ¥50,000 |