Liquid Rust Remover S-012
Rust remover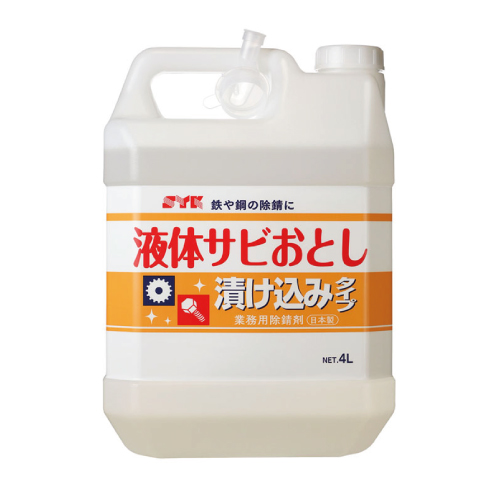 Rust remover for immersion
Model number:S-012
Contents:4L
Categories
Rust remover
Use
Rust remover
Cleaning agent

Cleaning agent type: Aqueous

Dirt type: Other
Characteristic
Adjust the immersion time and concentration depending on the degree of rust, wash with water after removing rust, and use a rust preventive to prevent recurrence.
how to use
① Depending on the degree of rust, use this agent at a 30-fold dilution from stock solution to water.
② When using for the first time by combining the dilution concentration and the immersion time, remove the rust while observing the situation. Please note that using a concentrated solution or soaking for a long time may cause discoloration or damage to the material.
③ After removing the rust, immediately remove it from the solution and rinse the agent with water. Then, perform rust prevention treatment.

Standard
| model number | contents | suggested retail price |
| --- | --- | --- |
| S-012 | 4L | ¥3,300 |
| S-013 | 20L | ¥13,000 |